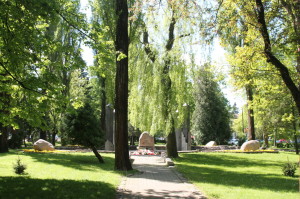 It is the culmination of Polish history over the centuries. It was unveiled on 3rd May, 1999, at the square named after Adam Mickiewicz, at Wolnosci Street.  It was established due to the initiative of the World Association of the National Army. The construction was managed by the Social Committee for the Construction of the Monument of Independence.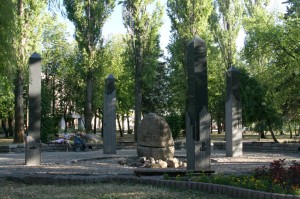 The centre of the monument is halved boulder with the inscription: GOD, HONOUR, and COUNTRY. Around it there are four towering columns of black granite, covered with stone slabs from the bottom gradually going up, which makes a feeling of compression, incrustation, closure. The images of a white eagle in the shape typical for the epoch, the cross of Military Virtue, the Solidarity logo, the symbol of the Siberians with the cross next to it, and the anchor of fighting Poland were placed on them. Around the boulder and columns there are four smaller obelisks with the dates: 1791 (Constitution of the 3rd May), 1792 (Polish – Russian War), 1794 (Kosciuszko Uprising), 1797 (establishment of the Polish Legions in Italy), 1807 (establishment of the Duchy of Warsaw), 1815 (establishment of the Kingdom of Polish as a limited form of statehood), 1830 (outbreak of the November Uprising), 1848 (Spring of Nations), 1863 (outbreak of the January Uprising), 1865 (death of Fr. Brzoska), 1905 (revolution on the Polish lands), 1914 (outbreak of World War I and the march of the 1st Cadre Company), 1918 (independence recovery), 1920 (Polish – Bolshevik War), 1939 (establishment on of the Polish Underground State), 1944 (repression against PUS, the beginning of the Polish surrender to the Soviet Union), 1956 (events in Poznan), 1970 (workers' protest on the Coast), 1980 (establishment of Solidarity), 1989 (fall of Communism). The basin between the boulders and columns was lined with field stones.
Made of bronze elements of the monument were consecrated on 3rd June 1997 in Gniezno by Pope John Paul II during his pilgrimage to Poland.