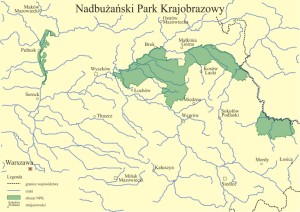 The Bug Landscape Park is one of the largest and most beautiful parks in Poland. It's located in the central-eastern part of the Mazowsze, covers an area at 74 136,50  ha and with the lagging – 113 671,70 ha. Its area includes the Bug River and the lower Narew. The Bug Landscape Park is an integral part of the Green Lungs of Poland.
Area of the Bug Lanscape Park is characterised by a ruggedness and a low degree of transformation by humans. In addition, the Bug River is one of the few rivers in Europe, which retained its irregular stream. The location of the area offers the possibility of practise active turistic forms.
In the Bug Landscape Park resident rare species of animals, in particular birds. A part of area of the Bug Landscape Park is located in species of Natura 2000 network, where are marked Special Protection Areas (Birds Directive) named "Dolina Dolnego Bugu" and "Dolina Liwca". And with this, this area has an European rang among protected areas.
In and near the area of the Bug Landscape Park has been appointed 14 reserve, 7 of them lie in the Sokolow county.
More information about the Bug Landscape Park can be found on the websites: http://www.parkiotwock.pl/index.php/nadbuzanski-park-krajobrazowy and http://www.nlot.pl/pl/.