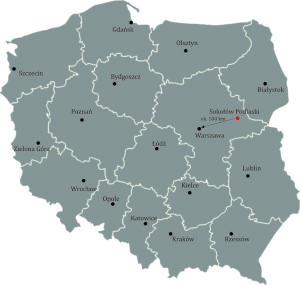 Sokolow is a city and municipality in the Mazowsze-Podlasie Lowland, the seat of Sokolow county. The city is located in the eastern part of the Mazowsze Viovodeship, 30 km north from Siedlce and 100 km east from Warsaw. It covers an area of ​​17.5 km² and is 19257 inhabitants live there.
The locations of the neighbouring counties are: Losice, Siedlce, Wegrow, Ostrow Mazowiecka, Wysokie Mazowieckie and Siemiatycze (the last two in the Podlasie Viovodeship). The Sokolow county includes the city of Sokolow Podlaski, the city and municipality of Kosow Lacki and the municipalities: Bielany, Ceranow, Jablonna Lacka, Repki, Sabnie, Sokolow and Sterdyn.
From the north and east Sokolow is surrounded by large complexes of mixed forests. Both the city and the whole vast area are located in the scenic countryside of the Green Lungs of Poland and the Bug Landscape Park, created in the valley of the Bug River. Due to the qualities of the environment, and unique species of fauna and flora, the nature reserves and 795 individual trees to be protected are in the vicinity of Sokolow Podlaski. Such ecology advantageous location of our city is conducive to the development of tourism.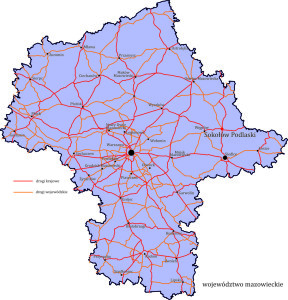 The authorities of the city, the municipalities and the Sokolow county Sokolow perceive tourism opportunities for local development. Therefore, in Sabnie, the neighbouring municipality, about 5 km from Sokolow Podlaski, between Kupientyn and Nieciecz the lagoon of an area of ​​about 50 hectares and depth before the dam about 7 m was built.
In order to preserve the environmental values ​​and improve the aesthetics of the city, the local government annually develops the technical infrastructure; new water supply, sewerage, gas and energy are created, upgraded pavement of the streets and sidewalks, and ecological boiler rooms are made.