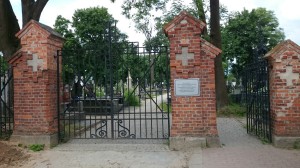 The oldest Catholic cemetery was situated around the parish church at Koscielna street. In the vicinity another cemetery was established, however, establishment date is not recorded in the sources.
It was probably shortly before 1836, because parish goods of this time described parish cemeteries as follows: Cemetery is one at church, masonry from front from the south and from the west with rocks put and masonry, from the west, and from the mid fenced with dry, braided wood.  They are two exits from cemetery, one large from front of church, other is smaller, and from the side from parish; both have doors made​of lumber, with iron hinges and handles.
Other cemetery is new, behind church, behind parish priest garden from the north in parish church fencing.  There are various types of embedded trees. Now, bodies of dead are buried there.
Cemeteries were closed approximately in half of the 19th century as a result of administrative council regulation of 1846, which prohibited burial places to be located within the city limits. After World War II, during construction of current contrcathedral, few preserved gravestones were destroyed. Now, there are two of them in church area.  One is constructed by parish people for Sokolow vicar priest Jan Czarnocki, died in 1855, and the other one, in which the Kobylinscy family bodies were buried, was founded by previous parish people.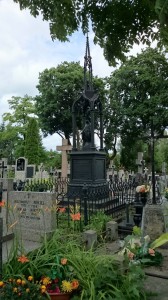 After cemetery in church area was closed, area between current following streets was designed for catholic dead people:  Lipowa, Wolnosci and Cmentarna, with the main gate from Chopina street. The internal cemetery planning system consists of main avenue leading from the gate situated in the north-east wall toward neo-Gothic brick temple of Polkowski PhD, situated in the western part of necropolis. The main avenues, from the south side, divides into two avenues  located across the main avenue. In addition to traffic routes there is avenue running at the cemetery wall.  Cemetery at Chopin street was enlarged in 1905 by two morgs. There are interesting gravestones coming from 2nd half of the 19th century and 20th century. The Hirschmann family grave is very beautiful – former owners of Sokolow, derived from the beginning of the 20th century. It is in a form of cast iron, neo-Gothic chapel crowned with transparent canopy, under which the figure of the Virgin Mary of the Immaculate Conception was placed.