The cemetery at Szopen Street was  probably established in the middle or at the beginning of the 1st half of the nineteenth century.

The oldest tombstone dates from 1864. On the cementry there are the graves of the Raczynscy family from 1875, Stanislaw Holder-Egger 1877, Maria Bonkowska from the Wierzejska family from 1884 and Anna Neumark from 1886, the tomb of Laskowsa family from 1889, Jan Dziobkowski (the doctor of Sokolow county) from 1891, Ignacy Samborski from 1901, the Milkowska family from 1901, the Hirschmann family from 1904. In 2008, the cemetery was entered in the register of immovable monuments of the Mazowieckie Voivodeship.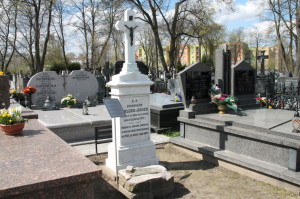 The special place in the cemetery at Bartoszowa Street is a tombstone in the shape of a cross on a pedestal, made of grey sandstone.  It is the burial site of Father Leon Zatkalik (1806 – 1863), a long-time administrator and parish priest of the Uniate parish in Sokolow (1828 – 1863), his wife Justyna from the Hanytkiewicz family and her sister Julia Terlikiewicz from the Hanytkiewicz family.  Julia was the wife of the Uniate parish administrator in Sawice and Szkopy, Fr. Leon Terlikiewicz. Both sisters were the daughters of Fr. Gabriel Hanytkiewicz from Kornica.  The tombstone is unprecedented in the Podlasie region, focusing the fate of several families of the Uniate priests. It should be stressed once again that the Uniates were subordinated to the Pope. However, they retained their own liturgy, and their priests did not apply celibacy.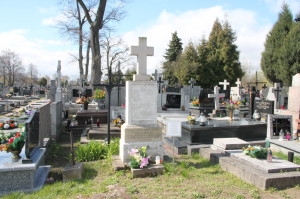 The part of the historic tombstones were restored due to the efforts of the Social Committee for the Care of Sokolow Cemeteries, "Memoria".