The chapel of St. Jan Nepomucen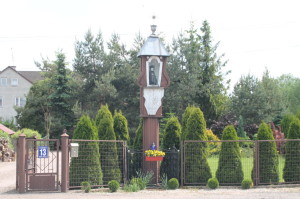 The precious monument in the city is a wooden chapel with a folk statue of St. Jan Nepomucen, placed in 1806. The pillar chapel made of the trunk of an oak covered with boards, topped with a chapel, included volute run-off, with the plaque with an inscription and dates.  Four-sloped roof, covered with steel sheet, topped with a ball and a cross – inside there is the folk statue of St. Jan Nepomucen from the beginning of the nineteenth century. The chapel is located at Siedlecka Street, at the bridge on the Cetynia River.  It was built by the inhabitants of the street. Similar chapels are rarely seen.
This one is preserved in very good condition; the renovations funded by the residents of the city were made in 1841, 1902, 1961, and 1992. These dates were placed on the plaque, which hold the year of establishment of the facility as well.
The chapel with a statue of Our Lady of the Immaculate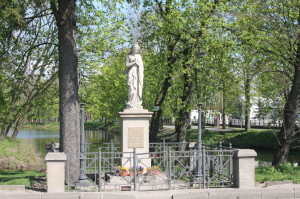 The chapel is located on the edge of the park on Przezdziatka, from Oleksiaka Wichury Street. It is the part of the compositional palace and park. In 2002 it was entered in the register of the monuments. The image probably dates back from the late nineteenth and early twentieth centuries.
The chapel with a statue of the Virgin Mary of the Immaculate Conception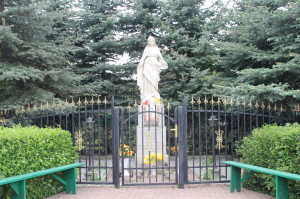 The facility was built at Fabryczna Street, near the main gate of the former sugar plant. The inscription on the chapel announces that it has been funded by the Foundation Board of the Association of Joint-Sugar Plants and Refineries, "Elzbietow" to commemorate the salvation of sugar plants during World War I and the Polish – Bolshevik war of 1920.