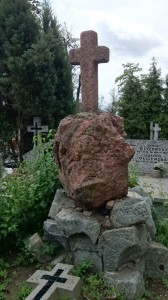 Other, non-existent currently place of burials was cemetery located at former orthodox church (non-existent) situated at so-called Russian Market, on the hill between today's Dluga, Siedlecka and Repkowska Street, called Protection of Holy Virgin Mary.
In 1757, cemetery was described as follows: there was wooden bell tower, with dome and iron cross: Cemetery surrounded with cut boards, decorated, with door with three iron hinges and hitches. In 1789, we read that there was bell tower in cemetery surrounded with wooden fencing and with wall base; there were 4 bells and steeple. The second large bell, suspended in the cemetery on four pillars. This bell tower made of wood, covered with shingle, needs repairing.
As Catholic cemetery, cemetery at orthodox church was closed in the middle of the 19th century. Then, at Bartoszowa street, new Uniate cemetery was established. The first burials took place probably in 1850-1860. The cemetery transformed into orthodox after 1875, survived in that form until 1915. Despite the fact that already after World War I cemetery was transformed into catholic, inhabitants of the city relatively rarely buried their relatives there. However, monument in obelisk form was erected here in the form, made of black marble dedicated to the memory of Polish soldiers who died in fightings with the Bolsheviks in 1920. On several times enlarged cemetery (for the first time in 1912 ), burials were resumed only in World War II and post-war times. On cemetery there was wooden Unite orthodox church, moved here in the early 20th century. Temple was destroyed in 1954 (was dismantled).  The 19th-century gravestones have survived till these days.  The oldest survived gravestone, from 1863, belong to Uniate parish priest Leon Zatkalik and his wife Justyna from the Hanytkiewicz family. The second one comes from approximately 1884.