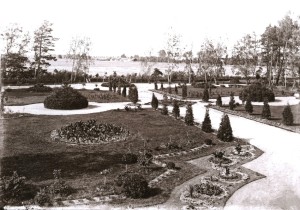 In 1898, Walerian Kronenberg – excellent garden planner, who planned new park while maintaining old trees, was involved to develop the park surrounding the palace of the Hirschmann family. He designed new view ducts radiating towards the east of the palace.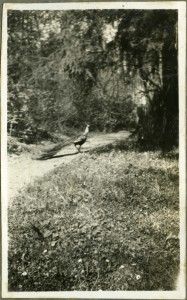 The old oak trees and larches and low view hills were situated between ducts.  From the south there was irregular, a large pond with the Cetynia River spring. In the western part there was picturesque island of oval shaped, covered with trees, which bent at the edge reflected in the surface of the water.  Near the pond there is a stone, polychrome statue of Our Lady Immaculate, set on high pedestal preceded with several-steps stairs.   Constructed in the late 19th and early 20th century, it was surrounded with cast iron fence. In front of the plinth, two large, cast candlesticks were set.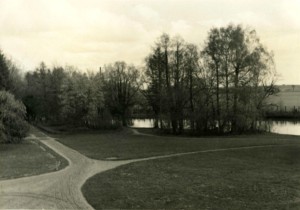 In the post-war years the park by the palace was destroyed. Some old trees were for firewood; beautifully branched spruces growing on glade in front of driveway were cut. In 2001 the park was renovated.  However, the works did not restore the park its characteristic features established by Walerian Kronenberg. In the second half of the nineteenth century the farm facilities were erected. The facilities located in the western part of old farm consist of previous – brewery facility with the workshop and residential facility and barns, sheds, semi-detached houses (4 dwellings) and blacksmith shop.  Stables and coach houses, gardener's house and basement with ice room in the near distance from the palace were constructed approximately 1880. The part of the farm facilities, rebuilt and adapted, is currently used for residential purposes.