The Papal Altar is a precious memento of the seventh pilgrimage of the Polish Pope St. John Paul II to his homeland. On 10th June 1999, at the altar, the Holy Father celebrated the Ecumenical Mass in Drohiczyn. The builders of the altar were people from Sokolow, the leader of whom was Fr. mitred prelate Jan Sobechowicz, the pastor of the parish of the Immaculate Heart of the Blessed Virgin Mary.
After the visit of the Pope, the altar was moved from Drohiczym praries to Sokolow Podlaski and placed at the church of the Immaculate Heart of the Blessed Virgin Mary in Sokolow Podlaski In May 2008, at the papal altar the mass was celebrated by Drohiczyn Bishop Anthoni Pacyfik-Dydycz, during which president Lech Kaczynski posthumously provided Fr. General Stanislaw Brzoska, the hero of the January Uprising, the Order of the White Eagle.
The symbolism of the papal altar was explained by its designer – Marian Korczyk, a sculptor from Radzyn Podlaski: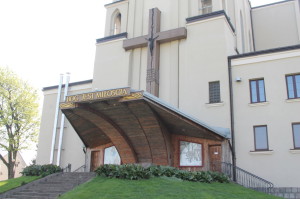 Its tear is not just tearing within the church but also the inner conflict of the soul of a modern man. The cleaved arms of the cross fasten the martyred Christ figure like a buckle, and the wound id covered by fishing net like a bandage. This is analogous to Peter's net, the first pope's net.