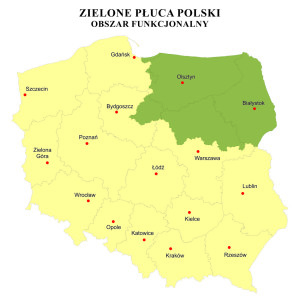 Sokolow Podlaski is located on the picturesque grounds of the Green Lungs of Poland.
This area is characterised by:
a low density of population adapted to natural conditions;
a sustainable network for the census-designated place;
clean air and environmental quality;
the unique diversity of the natural system;
attractive complexes of forests, lakes and grasslands;
the ability to commune with nature is not amended by civilization;
the richness and diversity of cultures and customs;
regional cuisine;
developing services infrastructure;
good conditions for the production of healthy food and the location of the "clean industry".
The functional area of the Green Lungs of Poland includes the Warmian-Masurian Voivodeship, Podlasie and part of the province: Masovia, Kuyavian-Pomeranian Voivodeship and Pomeranias. More information about the Green Lungs of Poland can be found on the websites www.emazury.com, www.fzpp.pl and www.wrotapodlasia.pl.