The Hirschmann family constructed the sugar factory in Sokolow-Przezdziatka. It was family of manufacturers from Warsaw, of German origin, of evangelical religion.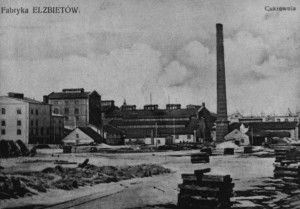 The family specialized in household chemicals. At Solec street in Warsaw the Hirschman family run chemical factory (mainly of soap and candles), with subsidiary in Tarchomin. August Hirschman and Herman Epstein constructed sugar refinery in Herman. Acquisition of land properties in Przezdziatka was probably immediately connected with idea of construction of sugar factory. This decision was supported by specialization of owners (they owned sugar refinery in Tarchomin).
In 1845, Elzbieta Hirschman with her son August and partners established a company to set up sugar factory from beet and refineries. With another contract of 2nd November 1845, Elzbieta Hirschman allowed establishing and equipping Sugar Factory from Beets and Rafinery on land of Przezdziatka. Factory settlement on land of Przezdziatka was specially named after her name "Elzbietowo". Elzbieta Hirschman committed herself to provide materials needed for construction, ensure appropriate amount of labourers, sow beets on 300 acres of fields, and then more, as demands of the factory. Factory was required to process any quantity of beet produced on lands in Sokolow.
Sugar Factory was started in 1846. Over the next few years it was the largest sugar factory in the Kingdom of Poland. Later its position decreased, but it was significant sugar processing factory for years. In 1862/1863 campaign, "Elzbietow" sugar factory employed 366 workers. The factory running resulted in economic recovery of Sokolow, because factory and its numerous staff became recipients of Sokolow inhabitants.
In 1870, the factory employed more than 3% sugar factory workers throughout the country and provided the same amount of sugar to the market. In 1875 sugar factory changed sugar manufacturing technology for diffusion system, which was to increase manufacturing process and make it more modern. In 1879, 370 workers worked there. During the exhibition in Moscow in 1883, it was awarded the gold medal for good quality sugar, which provided sales opportunity outside the domestic market. The sugar factory was expended in 1894, it employed 648 people already. In 1904 the sugar factory was one of the largest in the Kingdom, 472 workers worked there; it was equipped with 10 steam machinery of capacity of 435 km. In 1905 power plant was started at the sugar factory. Power plant served only to illuminate plant – there were 20 arc lamps and 400 bulbs. Since 1873, the factory was owned by Stanislaw Lesser, Warsaw banker, and then (1910) the factory was transformed into a joint stock company. In the years preceding World War I outbreak the sugar factory employed 220 workers, and during the campaign 690 workers, manufacturing 4 000 tonnes of sugar.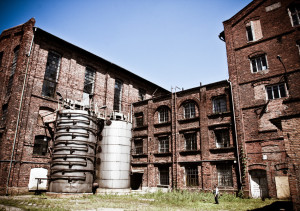 The sugar factory successful development was stopped during World War I. The part of facilities was destroyed, as well as most industrial equipment, many of which were taken by the Russians. Despite reconstruction carried out during the interwar period, the sugar factory never regained its importance from the beginning of the 20th century. Subsequent looting and destruction was made by Germans during the World War II. In August 1944, approximately 45 % of the sugar factory facilities collapsed. The reconstruction efforts were undertaken by the city authorities immediately after the war in 1951, when the sugar factory was restarted.
The sugar factory includes the following facilities: facilities erected in contemporary times and in the 19th century: masonry production hall and former stable, brick sugar factory administration facility from the beginning of 20th century and houses of workers, located in nearby settlements.