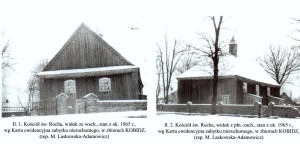 Wooden church of St. Roch in Sokolow is now located at St. Roch Street, joining Węgrowska Street and Wiejska Street. It was moved to this place in 1980 from Kosowska Street.
Legend connects temple erection with epidemic, which decimated the population of Sokolow.  One of them, coming back at night from common prayers of plague cessation, saw a mysterious character. It was St. Roch, who promised the population of Sokolow to rescue them if they would erect temple on nearby meadows. At the time, when new temple was being erected, epidemic expired. In memory of this event church was named after St. Roch, patron of  people sick with plaque.
The inventory of 171 of Sokolow church mentioned about a small church placed behind parish facilities: the church of St. Roch, at the roadside, constructed on the same land, needed significant repairs, foundations, floor, roof and fencing. In 1797, the city suffered fire. Probably, old wooden church of St. Roch was damaged. It was rebuilt from funds of the foundation of Karol and Franciszka Kobylinski in 1819 or in 1820, to serve in the years 1820-1826 as temporary chapel for just uplifting masonry parish temple (in 1817 wooden church of St. Michel Archangel Michael of 1800 burned down).
Visit of parish church in Sokolow in 1836 described adjacent church of St. Roch  as follows: This chapel is out of city, or church with parish facilities, between summer west and midnight, with subbase with grated tree and covered with shakes. In the middle of the roof there is tower raining up, covered with while steel sheet, in the top of the tower there is iron cross , bell inside, called steeple, suspended. Large entry is from the west – two-leaves door of timber, double mounted with iron nails, with hinges, locked on both sides with iron locks and secured with French locks.  Other door is for entry do church, from side from the south, made of timer, double mounted with iron nails, with hinges, locked on both sides with iron locks and secured with French locks.  In the chapel floor and ceiling are arranged of timber.  There are 8 windows, with glass embedded in tree. Sacristy.  On the left-hand side of the great altar, from the south, together with chapel built and under one roof preserved. Entry door from church are made of timber (…). From sacristy behind the door on the right side there are stairs to entry to box, which is above sacristy, covered with timber from side.  (…) From sacristy there is door to enter cemetery.  (…) Cemetery is surrounded with ditch, but it is not a place for dead people to be buries.  Altars. The first great altar is decorated with carpentry art and painted in different colours. In this altar there is image of St.  Roch, painted on canvas and placed in frames.  Cornices of frames are covered with gold.  Above the image, at the top there is other image of St.  Barbara, painted on canvas and placed in painted frames. Mensa is masonry, made of brick. On mensa there is cyborium decorated with carpentry art and painted in different colours. ( … ) Other altar is on the left side of the great altar, in the corner behind presbytery, on the wall, painted in different colours. In the altar there is image of the Czestochowa Virgin Mary, round, painted on canvas and placed in frames.  Mensa at the altar in the shape of table, made of timber.  (…) Pulpit. Pulpit is on the right side of the great altar, i.e. Cornu of Gospel, decorated with timber, painted with while adhesive paint, on which stairs for exit are made of timber.  Under this pulpit there is confessional made of timber, painted in white, including door made of timber.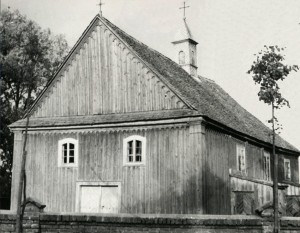 Similarly, the inventory from 1874 described the temple, providing information that the state of church requires thorough restoration.
In 19th century church of St. Roch gathered numerous local population, especially crowded during indulgence on 16th August, on the day of its patron. Church was renewed several times, including in 1882, when new floor was laid was formworks were carried out, and in the years 1906-1907, when total renovation was carried out, changing foundation, several beams in external walls and roof, roof covering with shingle and steeple with steel sheet.  In 1891 Stanislaw Hirschman funded new fontal and presbytery curved from tree and decorated around with Evangelists, covered with gold and figure of Lord Jesus with outstretched hand, carved.
Church fortunately survived both wars of the 20th century, but in the 20s of the 20th century it was planned to demolish it to construct new temple from the collected material designed by Kazimierz Grabowski and Bruno Paprocki. In the years 1944-1953, after destruction of church of St. Michael, it acted as parish church, and then cemetery chapel. Church body was gradually reconstructed, adding two porches from the southern side. Archival photographs of 60s of the 20th century show rectangular facility, covered with three-slope roof with narrow tower on the ridge, crowned with a triangular gable façade and wide profiled cornice crowning elevations. Formwork was enriched with corner pilasters and a cut in the frieze, under ventilating hood arcade boards. From presbytery vestry with box at upper storey was separated, with separate door from the outside, preceded by porch.  In the western part of naves there is music choir balcony with balustrade cut from boards, supported on two columns. Until 60s of the 20th century church was equipped with folk altar of baroque features, from the 1st half of the 19th century, primitive pulpit combined with combined with the confessional from the same period, wall altar, late Gothic crucifix from the 16th century and the Orthodox brass bell from the 19th century.
In 1980 church was moved from Przezdziatka district to the present location. However, new church was constructed using reinforced concrete poles and ring beam, pine logs from the old church, removing the old decorative timber, were used to fill walls. In this way, completely new facility of different shape and view than the 19th-century church of St. Roch, distorted with numerous additional facilities, with enlarged western part. Temple consecration occurred in 1981. In 1993 at church parish of God's Mercy was erected and raised it to the dignity of Sanctuary. In 1995 at nearby Oleksiaka-Wichury street new masonry temple of God's Mercy, by design of Krakow architects: Anna and Krzysztof Filusiowiwe and Piotr Bielanski, was started to be constructed.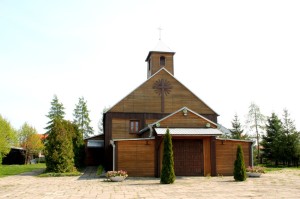 Today's wooden church is oriented, has a reinforced concrete structure, filled with pine beams from old church. Vertical formwork covers walls. Nave body is covered with gable roof, passing over presbytery in five-slope roof, western porch – gable roof in the middle and pent roof in side parts, and side porches flanking presbytery – pent roofs. All roofs are covered with steel sheet.  Over front elevation with triangular top, four-sided steeple with four  arcade voice holes rises, covered with sheet sheet and tented roof finished with cross. One-nave church body has rectangular shape, presbytery of width of nave is closed five-sided, flanked with two rectangular porches.  Porch added to the western elevation is of extended rectangle shape and is higher in the middle.  Western part of body is music choir supported on two columns.  Similar pillars placed on their axes support ceiling. Ceiling is of the same height in nave and presbytery, shape in cross-section is similar to basket arc. At contact of nave and presbytery it is divided by single strap. Interior walls and ceilings are covered with boards.  Naves and presbytery walls are are divided by pilaster strips created by decking of structural columns. Among them there are rectangular, multi-divided windows.