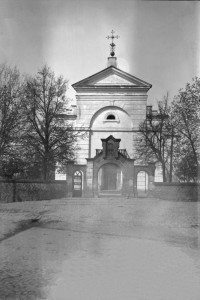 The first church in Sokolow was founded on 12th May 1415 by Mikolaj Sepienski, owner of the property, adviser and secretary of Duke Witold. On 3rd October 1424, Wlodzimierz bishop Grzegorz erected and equipped the parish in tithe of Sokolow and surrounding villages.
After the Sepienscy family, owners of Sokolow properties was the Sokolowscy family, and then, in the early 16th century, after death of Stanislaw Sokolowski (without descendants) – the Kiszkow family. Jan Kiszka, starost in Zmudz and Lithuanian cup-bearer in 1562 transformed catholic church into Arian church, the role of which was up to 1592, – then returned to Catholics.  The wooden churches were constructed in 1632, (in the Radziwill family times), and in 1737 (in the Krasinski family times). In 1800, in Sokolow additional parish church was constructed with funds of the Oginscy family. Probably previous temple burned down in 1797, in a fire, which destroyed almost the whole city. New church of St. Michael Archangerl was also wood and burned in 1817. For that reason former Sokolow owners: Karol Kobylinski and his wife Franciszka from the Wojewodzka family founded new, brick church in of St. Michael Archangel. Construction lasted from 1820 to 1826. In this period parish temple was wooden chapel of St. Roch, located in the vicinity. In 1826 church was consecrated.  The facility constructed by the Kobylinscy family did not survive World War II.  At night from 26th to 27th July 1944 Soviet army bombarded the city, and as a result the church, the presbytery and the curate house were destroyed. After the war parish temple was again wooden church of St. Roch. New church was begun to rise in 1948 according to the design of the Warsaw architect Andrzej Boni. The works, which was managed by the current parish priest Stanislaw Pielasa, completed in 1953. That year. Ignacy Świrski, bishop of Siedlce, i.e. Podlaski, established new church. It was only in 1983 that tower finishing temple façade was finished and interior was equipped:  floor was laid with tiles, three altars were erected, three confessionals, benches, organs and two new bells were bought Later, in presbytery altar by design of Prof. Gustaw Zemlo with bas-relief of Risen Christ made by him were placed. Side statues were made by Dariusz Kowalski and his wife; sculpture of Mother of God, brought in 1953 from Piekary Slaskie, was placed in the middle in 1992, when under edict of Pope John Paul II the church rose to the rank of concathedral and received a new name of Immaculate Heart of Virgin Mary. In 1999, wooden field altar, which is part of the altar constructed in Drohiczyn due to the visit of John Paul II, was added to the rear façade.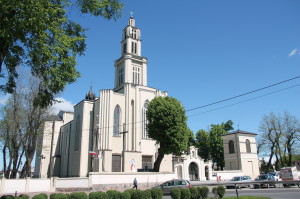 Architecture of church of Immaculate Heart of Mary combines the features of modernism and historicism. Cubic solid body, presbytery and tower, practically devoid of architectural divisions, are contained with Gothic detail, for example, finished with sharp arches filled with manswerk.  Andrew Boni used in the design of Sokolow church solutions and forms used by him earlier in temple of Purest Heart of Mary in Warsaw.  This church was constructed in the years 1934 – 1940 to commemorate the hundredth anniversary of the battle of Olszynka Grochowska, it is the prototype of cathedral in Sokolow.
In the 1st half of the 19th century at the gates on axis of the main entrance to temple masonry bell tower, existing till these days, was constructed. On the grounds of the former cemetery slightly damaged and defaced tombstone of priest Czarnecki, dated of approximately 1855 preserved.  There is also grave of the Kobylinski family, the bodies of whom were in the crypt of previously founded by them church. It is a simple iron cross – slightly damaged ¬ located on field stone. Inside the fence there are three wooden crosses and chapel established approximately 1919 with Mercy Christ figure, left hand of whom indicates heart of flame.